I know its a little late for the usual tuesday baseball, but last night I was exhausted and figured it's better to hit the rack and come back strong in the morning.
So the yanks fell to the sox, which is always fun. The article I posted below gives a pretty good rundown of the game and apparently Lester is absolutely killing it for Boston these days. Most people that know me, know that I am not a big stats guy. I prefer the actually technique and strategy of the game as opposed to knowing who played 2nd base in 1982 or who has the most hits against yankee leftys when playing a night game on Tuesdays... personally I say who cares. Leave that for the folks in cooperstown to analyze.
any given day 9 guys are going to win and 9 guys are going to lose. If it were all dictated that closely to stats then baseball would be the black jack of sports gambling (not always accurate, but the best chance). But face it... baseball is baseball... its an adventure and anyone who says its boring... doesn't know what they're looking at.
I love hearing about the early season passion for the game, as illustrated by Papi and Papelbon in last night's game. The only parting thoughts I have for everyone is....
The thing about the AL east is that its always going to be the race for the best in AL. New York, Boston, and even Tampa... put up a good show all season. Like I say about individual games against the Yanks... When you are dealing with this caliber of ball players... it truly isn't over until the last out. They are the best for a reason. nothing is done until it's done. So I hope the sox stay on em for the rest of the season and I hope they stick it to em for the rest of the series. "The diamond is forever"
T minus 4 days to Sprint Tri time. Feel the juices flowing.
Lester continues run of success vs. Yanks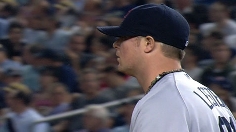 BOS@NYY: Lester wins his eight of the year
NEW YORK -- Put Jon Lester on the mound in the Bronx and good results always seem to follow. Matter of fact, any time he pitches against the Yankees, he always seems to find a way to the winners' circle.
Even if Tuesday night was a bit of a grind at times, Lester still found a way to notch another rivalry win. The lefty helped guide the Red Sox to a 6-4 victory over the Yankees in Tuesday night's opener of a three-game series.
He has won his last five starts against the Yankees, something no Red Sox pitcher had done since Reggie Cleveland from 1975-77. Lester has won his last four starts in the Bronx -- the first Boston hurler to do that since Roger Clemens between 1987-89.
"It's nice," said Lester. "It's kind of cool to come here. It's a fun place to play, just like Fenway. The atmosphere's great, the crowd's always loud and you want to beat these guys."
The rivals are now tied for the top spot in the American League East, though the Yankees (33-25) still lead by one over Boston (34-26) in the loss column.
To get to this prominent spot in the standings, the Red Sox can thank, in large part, their success against the Yankees. More than a third of their way through their schedule against New York, the Sox have taken six of the first seven.
"We've been playing better than what they have, and that's why we're winning [head-to-head]," said designated hitter David Ortiz, who hit a towering two-run blast to aid the cause. "That doesn't mean we just have to go to sleep and stay right there. We just have to keep on playing. They have a great team, and whoever plays the best between the two lines is going to win."
Jonathan Papelbon nailed down the save -- the 200th of his career. Papelbon accomplished that milestone in 359 appearances, making him the quickest in history to hit that number. Mariano Rivera owned the previous record at 382.
"I'm excited about it," Papelbon said. "It's something that I take pride in. This game will definitely hold an extra little special something in my heart."
Meanwhile, Lester is now 8-1 in 14 career starts against the Bombers.
"Luck," said Lester. "I don't know. I just try to go as deep as I can in the game. I've got to pitch behind some pretty good offenses along the way. That helps when you put some runs on the board."
That was again the case on this night, as Jacoby Ellsbury hit Freddy Garcia's fifth pitch of the game over the wall in right. It was the fourth leadoff homer of Ellsbury's career, and first since Sept. 26, 2008.
"It's nice to get things going, get on the board right away -- especially three runs," Ellsbury said. "He left a split-finger fastball down. It was actually a pretty good pitch, but I kept my hands back and stayed on it."
It was far from the end of Garcia's problems. Dustin Pedroia walked and Adrian Gonzalez drove him home by pummeling a triple off the wall in center. Kevin Youkilis followed with a sacrifice fly to left, and Lester had a 3-0 lead before he threw a pitch.
"It's nice, especially when momentum takes the crowd out of it a little bit," said Ellsbury. "At that point, trying to keep on ... tacking on runs."
This was a good night for Lester to have a cushion. He lacked command in the first, something that was never more evident than when he drilled Mark Teixeira in the right knee, sending the star first baseman to the ground writhing in pain. Teixeira had to leave the game, but X-rays proved negative. He was diagnosed with a contusion.
"It's tough to hit a guy like that and see him go off the field not feeling too good," Lester said. "To be able to get back on the mound and try to throw strikes is key. I was able to do that for the most part."
Robinson Cano put the Yankees on the board with an RBI single to center. Lester then hit Russell Martin on the right leg. Despite a 33-pitch inning, Lester gave up just the one run.
Lester lasted six frames, scattering eight hits and three runs. He walked one and struck out five, throwing 112 pitches.
"We had our opportunities -- we can't play that woulda coulda shoulda game," said Yankees right fielder Nick Swisher. "He pitched a good game. We got the tying runs to the plate there late in the game, and we really battled."
Lester is 8-2 with a 3.98 ERA. Over his last five starts, Lester has a 5.76 ERA, though you'd never know it by the 4-1 record he has in that same span.
"This is a tough lineup," said manager Terry Francona. "If you make any mistakes at all, they're going to make you pay. If he came out of that game with a win, that's good enough."
The Red Sox kept on swinging against Garcia. Pedroia's double to left-center with two outs in the second scored Jarrod Saltalamacchia, and Lester was back up by three at 4-1. Garcia then walked Gonzalez intentionally and was removed from the game. The righty gave manager Joe Girardi just 1 2/3 innings, allowing four hits and four runs while walking three.
For a couple of innings at least, New York's bullpen held the Red Sox at bay. But in the fifth, Ortiz created breathing room again, hitting a mammoth two-run homer to right against Hector Noesi. Ortiz flipped his bat emphatically and took his time running around the bases.
Girardi wasn't thrilled about the display of emotion from Ortiz.
"I'm a home run hitter," said Ortiz. "That's all I can tell you right now. I've done it before. It's not like I do it all the time. It's part of the excitement. What can I tell you?"
Down 6-1, the Yankees didn't quit. They rallied right back in the fifth. With two on and two outs, Swisher smashed a two-run double into the gap in left-center, and Boston's lead was down to three.
Although Bobby Jenks departed the game following just four pitches because of back spasms, the Boston bullpen otherwise closed out the game without incident. Matt Albers and Daniel Bard worked a perfect inning a apiece, and Papelbon worked around a hit and a run in the ninth for his milestone save.